'Twas the weeks before Christmas and and all through the land,
pups from all over joined hand-in-hand,
they silently prayed that all of their kind,
be warm, be loved, be safe and be fine.

For our dogs, this is a given, but, for many who are considered commodities or just property, they will never know the warm and loving home that a dedicated and wonderful family can give. We must think about all those creatures who must live solitary lives in cages for breeding, in the cold, exposed to the extreme elements and who will never know the comfort of snuggling with someone who adores them under a warm and cozy blanket. Please say a silent prayer to those we can not help, but, who are as important to us as own own beloved pets. Please continue to rescue.
DORG has it's own Holiday Story to share with a wonderful ending, and an exciting new beginning for a dog named Freckles and Hart.
Through the power of the Internet Freckles found she had relatives, one of whom she would soon be reunited with.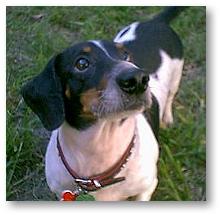 The story began when the October/November issue of DORG went up. Sparky, DORG's mascot was the cover dog used to bring light to the puppy mill issue and the genetic nightmares that that can happen as a result of irresponsible puppy mill breeding practices.
A reader saw Sparky's picture and saw a resemblance to her dog Freckles, and Sparky. Naturally someone would say, "what are the odds that they could be related?" In most cases, slim, but, in this case it was true. Sparky was indeed related to her.
Freckles owner contacted DORG asking who Sparky's parents were and we obliged with the information and from here on out, many people became involved and a very wonderful outcome was a result of it.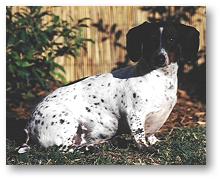 Freckles was purchased from a breeder who had the father. The father was bred and sired a litter and from that litter, two pups, Freckles and Hart were born. When Freckles and Hart were old enough, they went to their prospective homes in different parts of the US. The owners of Freckles adored her the moment they saw her and she quickly became an adored member of the family and "daddy's" girl. Freckles was happy, carefree and loving life. Throughout her growing and development, her owners noticed there was something different with her ability to see, yet she didn't appear to be hindered in any way.
When Freckle's owner wrote DORG it began to unravel answers that no one really wanted to hear. Not only did they find out that the father, Freckles and Hart (her littermate) came from a line originating from a puppy mill, but, Freckles was found to be blind in one eye and limited in site in the other, plus some other problems that were inherited from this line. Here was a year old little girl, born with some of the same genetic problems that Sparky suffers from, all because of indiscriminate breeding in her past for money.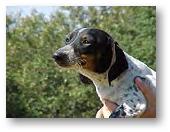 Freckle's father had been purchased by a person who thought they were getting good breeding dogs. They had the dream of raising nice Dachshunds and with their breeding facilities being on a small scale, they were able to give the dogs an environment where they could run and play. Their only "crime" was not getting their breeding stock from a reputable breeder who checks for genetic problems and who shows their dogs to gain their championships where their dogs conform to the AKC standard. Subsequently, Freckle's breeders bred the father who would unknowingly beget puppies that carried or showed these genetic problems in the line.
Being suspicious of eye problems, Freckle's owners took her to an Ophthalmologist to have her eyes tested where it was determined that Freckles did have sight problems. She contacted the breeder who then investigated his stud's line. Sure enough, these dogs had originated from the same lines as Sparky, and they were in fact, all related and from dogs bred in puppy mills. The breeder then offered to replace Freckles with another pup from another line or return their money. They made this offer to both Hart's owner as well as Freckle's owners, both of whom chose to not take another puppy, but, to have their money refunded. The owner of Hart made the decision not to breed him as she had intended, but, to neuter him and place him in a pet home. Freckle's owners asked if that home could be theirs.
The most wonderful part of this outcome is that Freckle's breeder recognized the severity of this and how it would impact so many dogs down the genetic line and took responsibility and will also be neutering the father. They returned the money to Freckle's and Hart's owners swiftly and apologized for all they had gone through emotionally. I must commend these people for being this responsible and wish that there was more of this type of breeder around.
Responsible breeders who truly love their dogs and are responsible for them will always stand by their breeding. They will purchase quality stock that is free from the genetic problems that can happen, and they continue to watch and check their lines for problems that can be detected early, such as PRA. The public should only deal with these type of breeders.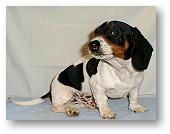 The happy outcome to this story is that within a few weeks, Hart will be reunited with his sister Freckles as his new home. They also found they have a cousin, Sparky. But, the best part of all this is that because of responsible decisions, there will be no more blindness passed on to what could have been future generations since the father and Hart will be neutered. Freckles had been spayed much earlier so even though these are only three dogs, it will be a positive impact on the breed.
Thank you for being responsible and Happy Holidays to Freckles, her family and her extended family. Her cousin Sparky was pleased to have found her and wishes for the ultimate gift of "responsibility" when it comes to breeding.