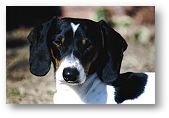 Hart had gone to his new home the week before Larry got Freckles so we had never met. Hart was living in Louisiana and looked pretty happy. Kathy, who had purchased Hart to breed, emailed me when Hart was about 4 mos. old. We exchanged email addresses and vowed to keep in touch. We exchanged pictures and I watched as Hart grew up. I never dreamed he would become part of our family.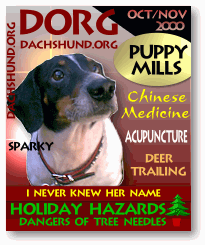 One day as I was surfing the web, I found Dachshund.org. On the cover was a Piebald named Sparky who looked a LOT like our Freckles and a lot MORE like her dad. I read the article slowly unable to get over the resemblance of this dog to ours. Almost immediately I had a terrible feeling that I had stumbled onto something. Something that I didn't really want to know but couldn't stop wondering about. Sparky was blind, this worried me. I emailed DORG and asked where Sparky had come from. I asked if they knew anything like, sire or dam. My email was answered promptly and I was provided with Sparky's sires name. I ran to the cabinet where we keep our "papers".
I got out the copy of Freckles sire's pedigree. My heart sank, I saw: "Denmasters Sno Big Deal". I emailed Joni and told her what I had found. She was so supportive and caring. She explained that we could take Freckles to see a Canine Opthamalogist. We weren't worried about Freckles being blind, we were afraid she had PRA and would go blind. Larry was difficult to tell. He loves Freckles more than anything and did not want to hear that
she might go blind. At first he was a little perturbed that I had gone to all this trouble to make this horrible discovery. I told him we had to do what was best for Freckles. We had to find out. Reluctantly, he agreed and we made our appointment. We met a wonderful doctor and staff at the eye clinic in Camarillo. They wanted to know why we thought Freckles was blind.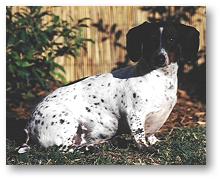 We kept telling them we didn't think she was blind, we just wanted the test done to see if she had PRA. The doctor examined Freckles while we watched and told us she was completely blind in one eye and wasn't sure how well she saw of the other. She said the good news was that there was no evidence of PRA and best case is that she was born this way and would never get worse. We pray she will never get worse. We drove home in silence wondering what to do next. I had to tell Kathy because she planned to breed Hart. Blind puppies, I couldn't bear the thought of not doing anything to stop it. When we got home I scanned the doctor's report and with Joni's help was able to email it to Kathy & the breeder where we got them. I heard back from Kathy immediately, she was very upset. I sent her the link to DORG and explained what I had learned from Joni about Sparky.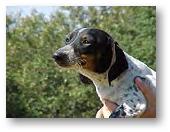 It was 3 or 4 days before I heard from the breeder. At first, he said it couldn't possibly be true, that he knew where his dogs came from and they were sound. But, within another day or so, he called and said he was wrong. He said the people he bought the dogs from had lied. He told me he was sorry and that he was having Freckles father neutered and they would keep him as a pet. He offered to replace Freckles with another puppy from a different line. I told him we could never do that, she was too special and we would keep her as healthy & happy as we could, all her life. He said he would send our money back and he did. He also contacted Kathy and made the same offer. She said she would have Hart neutered and find a home for him and he refunded her money. But what about Hart? He was year old, hadn't been neutered yet and was not housebroken. Kathy wasn't sure whether she would keep him or find him a home. I called Larry and said: " I think we need to go get Hart". He said: "Another dog? We already have 3!" I said: "I'm afraid that Hart needs us, lets go get him".
He said I could ask Kathy and see what she thought. I emailed her with our offer. We would love to give him a home. At first she turned us down, she had found a family that wanted him. But after a couple of days another email arrived. She wanted to know if our offer was still open. Larry & I talked about it and this time he was as eager as I was. We made plans for him to fly to Louisiana and rent a car, pick up Hart and drive back to California. It was a wonderful adventure for the both of them and Hart was the best present we ever gave each other. Joni told me in the very beginning: "If he's ANYTHING like Sparky, he'll be a wonderful dog". We are happy to have Sweet Hart in our family and even happier that we are related to cousin Sparky!